Kyle Chapman PT, DPT
George Kittle Injury Analysis
Twitter: @DoctorChapFF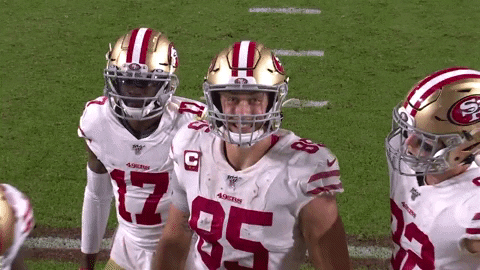 The curious case of George Kittle. Drafted in the 5th round in the 2017 NFL draft, Kittle has quickly become a fan and fantasy favorite. That being said, he has only completed one full season (2018) of his first four.
Let's investigate (hopefully, I covered all the major ones).
October 15, 2016 – Foot Sprain, left in the 1Q v. Purdue
Analysis: He missed the rest of this game and missed two games with nagging issues over ROS. Stuff happens and it was a tough tackle. Minimal concern by itself.
KITTLE IS NOW IN THE NFL
September 1st, 2017 – Hamstring Strain – Preseason Rookie year
Analysis: This left him out for about one week of preseason. This did not limit him for the rest of this year and did not cause him to miss any games this season. As of now (2017) no concern.
November 5th, 2017 – Ankle Sprain – Missed 1 week
Analysis: Likely Gr I ankle sprain, but it was mentioned towards the end of year Kittle had been playing "banged up" most of the season. Starting to be a pattern. No concern for a Gr I sprain.
August 9, 2018 – AC Joint Separation – preseason opener
Here's the video of the injury:
Analysis: He missed the rest of preseason, but no regular season games. He did not require surgery. Although this study shows surgical repair, results found that almost in all recoveries, the athlete returned to full pre-injury level of play.
Return to Sport and Clinical Outcomes After Surgical Management of Acromioclavicular Joint Dislocation: A Systematic Review
ALSO WORTH NOTING HERE:
49ers' George Kittle says he has played with torn labrum for nearly 2 years, refuses to undergo surgery.
This article mentions he has been playing with a torn labrum for two seasons (was this where it happened??). Did not limit him throughout the year or after and has been the least of his worries.
Analysis: likely a small tear considering he is adamant against surgery and doesn't seem limited by his shoulder. Not concerned. (Tidbit to save for later: Notice how this injury was AFTER CATCH.)
October 31, 2019 – Patellar injury – missed 2 games Kittle took a helmet to the knee while blocking on a run. Returned to the game, but missed 2 weeks following.
Analysis: Maybe bone bruise, which is very low risk for re-injury and pain tolerance to return in the short term.
August 27, 2020 – Hamstring Strain Gr-II – training camp missed no games. This happened during training camp and Kittle missed no actual season games from this injury, but this is now the second occurrence. This is the most prevalent injury in NFL. He has yet to be held out of a single regular-season game due to this injury in his four years so still not too concerned.
Analysis: This is at least the second time he has been hampered by a hamstring injury. Now need to monitor.
Here's a good article on hamstring strains: causes, prevention, and treatment for those interested in diving deeper.
Hamstring Injuries: Risk Assessment and Injury Prevention
September 13, 2020 – MCL Sprain Gr-II – missed 2 games. This could have been (HOW WASN'T IT!?!?!?!) much worse- the dreaded ACL. Takes a big hit to the knee on a planted leg.
He walked away with a Gr-II MCL sprain and only missed 2 weeks. Gr-II = some mild ligamentous tearing and mild laxity to the area. No surgery was needed. He lucked out here.
Analysis: This is one of the more concerning injuries he's had as grade II does cause some laxity. He only missed two games (beast) and will now be able to get in more rehab this offseason (and while resting from his next injury). (Again, this was AFTER A CATCH.)
November 1st, 2020 – Cuboid Fracture – missed 7 weeks (6 games). Again, AFTER the catch.
Analysis: As you know from my previous thread, I'd rather have a broken bone over a ligamentous injury. Caused him to miss nearly half his season, but the re-injury rate is pretty low here.
To spare you all with the boring recovery process I will link you to the man himself, @jmthrivept thread on his recovery process in this.
Key Notes
Most of Kittle's bigger injuries come from AFTER THE CATCH.

This shows me that his aggressive playing isn't the cause for his increase in injury rate.

He's missed 9 games over his four-year career (2.25g/year)

This list is long but doesn't even consider ALL the times he was on the injury report but ended up playing.

Kittle is built differently. For better or worse, Kittle plays through injuries more often than not.

Playing hobbled increases the risk of injury.
Now what?
There's no doubt Kittle is a top 3 fantasy TE.
I think he has the talent to be TE1, and don't blame anyone for thinking he is the TE1 and valuing him as such.
Where would I take him? I'm taking him at TE3 due to everything stated throughout this thread.
Due to his extensive history and play-through everything mentality, I'm slightly hesitant about buying him at his TE1/TE2 value. None of his injuries are major by themselves but as a whole paint a bit of a riddled history. This doesn't mean sell yet.
Hold for another season!